Testosterone Replacement Therapy Clinic in Pearl River, NY
---
Find Effective Testosterone Replacement Therapy at The Renew Vitality
Pearl River, NY
Testosterone Replacement Therapy Clinic
Address: 150 South Pearl St Pearl River, NY 10965
Clinic Hours: M-F 9:00 am - 8:00 pm
Phone: (845) 203-0333
Back to Locations
Testosterone Replacement Therapy Clinic in Pearl River, NY
---
It's no secret that hormones help our bodies perform cellular functions and communicate with specific tissues. For men, testosterone is the primary hormone responsible for many of their primary characteristics and capabilities. As one of the most influential chemical messengers in a man's body, testosterone plays a significant role in their sex drive, red blood cell production, muscle growth, and energy.
However, as men start to age, their testosterone production usually begins to decline and has adverse effects on the body. As a result, most men with low testosterone or Low T will typically experience symptoms such as decreased libido, muscle loss, fatigue, and rapid weight gain, which can also affect their self-esteem and mental health. Eventually, the strain from dealing with these issues can lead to noticeable and unwanted problems such as depression and erectile dysfunction. And if these symptoms continue to go untreated, it can leave men more vulnerable to other severe medical conditions such as cardiovascular disease, osteoporosis, and diabetes.
But there is a way to raise your low testosterone and treat the symptoms. By introducing new hormones into the body, men can retrain their bodies into increasing testosterone production and replenishing their low testosterone levels. However, the most effective method to administer these hormones is through an innovative procedure known as hormone replacement therapy (HRT).
With hormone replacement therapy, men can utilize certain hormone medications such as HGH and Sermorelin treatments to help stimulate testosterone production and raise their testosterone levels. In doing so, this "testosterone replacement therapy" (TRT) can help men increase their sex drive, improve their muscle growth, enhance their cognitive function, and improve their sexual performance.
At Renew Vitality in Pearl River, NY, we provide individualized testosterone replacement therapy integrated with manageable wellness plans to help treat the symptoms of low testosterone. Our Low T clinic offers many forms of TRT medications, including Sermorelin and HGH injections that can rebuild your testosterone levels. With our safe hormonal medications and exercise and diet regimens, we can help you change your lifestyle to optimize your treatment and overall health.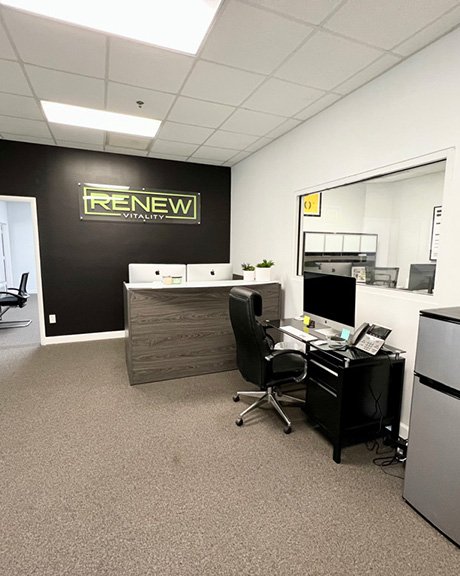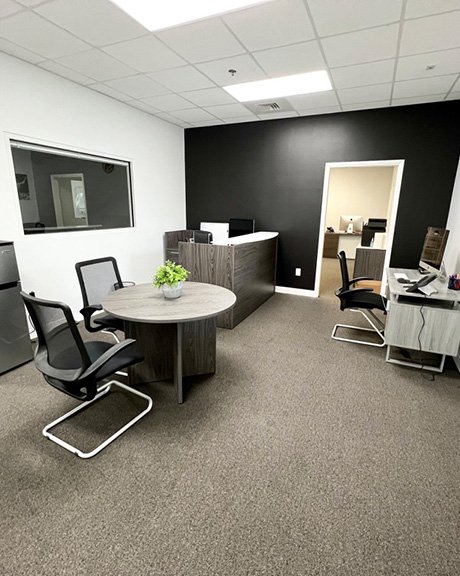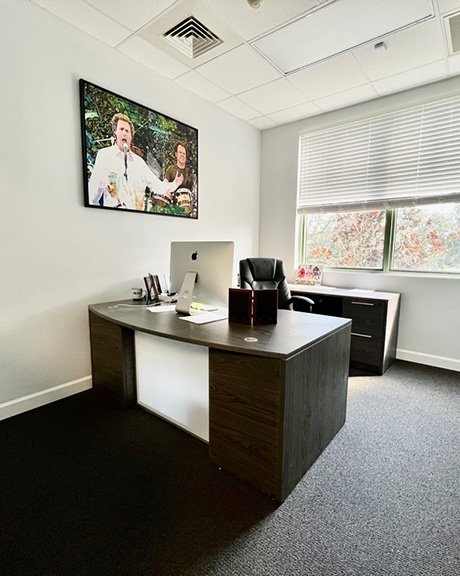 Welcome to Renew Vitality
---
How Much Does Testosterone Replacement Therapy Cost in Pearl River, New York?
Because each man's physiology is unique, the average cost of testosterone replacement therapy will vary based on the nature of the individualized treatment. So to help diagnose your symptoms, our staff will perform a physical evaluation during your initial visit. Then, after thoroughly reviewing your medical history, a Renew Vitality Vitality physician will study your test results to create a treatment plan that will address the underlying cause of your low testosterone.
Once you receive your treatment plan, our office will provide a customized expense report that will include your initial visit, the type of medication used, the dosage level, and the amount of time needed to see results. Afterward, we will thoroughly discuss your available payment options so you can begin planning your budget before starting TRT therapy.
How Do I Find A Men's Health Clinic Near Me?
If you're having trouble finding a men's health clinic that specializes in HRT near your home, consider broadening your search on Google. Using keywords such as "men's hormone therapy near me" can help Google provide several of the closest hormone replacement clinics in your area. Are you looking for more Renew Vitality locations within your vicinity? You can also type "Renew Vitality" followed by your city and state to find other Renew Vitality clinics near your home.
Treatment Benefits at our Low T Clinic in Pearl River, New York
Convenient Nationwide Locations
We know it can be difficult to find a men's health clinic near your home specializing in HRT and even more challenging to fit an appointment that works with your busy schedule. At the Renew Vitality Clinic in Pearl River, NY, our doors are open early in the morning and won't close until late in the evening, allowing you to schedule appointments before or after work at your convenience. And in case you can't make it to the office in Pearl River, we also have locations in Garden City, New York City, and White Plains, so you can always schedule an appointment at one of our offices in the New York area. In addition, we also have over 50 locations nationwide, so should you need to travel or decide to move to another state, our network can help you find a nearby Renew Vitality clinic to continue treatment.
Personalized Treatments
Although men with low testosterone may share similar symptoms, each one may have a different response to treatment. So at the Renew Vitality Clinic in Pearl River, NY, we provide various methods to administer TRT, such as transdermal patches, gels, and injections to suit your biological needs and preferences based on your medical history. And to help you optimize your medicated treatment, our wellness experts integrate manageable exercise and diet regimens that you can easily commit to and enjoy based on your current physical capabilities.
Experienced Team of Professionals
Our goal is to provide knowledgeable and effective hormone replacement therapy to every patient suffering from symptoms of low testosterone. So at every Renew Vitality Clinic, our network of physicians and medical professionals utilize their decades of combined medical experience to provide reliable treatment and support as you undergo your customized HRT. And if you have any questions or concerns regarding your treatment but cannot reach one of our physicians, all our support staff are certified in hormone replacement therapy and can address your concerns within hours.
---
Anthony Parasole
3 days ago
It's been a great experience working with Dr. Marshall and Josh and the Renew team. I wasn't feeling well and did research for treating my low testosterone the team walked me thru the process of bloodwork and doctor visit within a few days the process was complete and started treating my prescription I feel much better and they've been really great with answering any question throughout the process!

Tj Campion
week ago
I have been so happy with this company. The results in my fitness, happiness and all around life have been amazing. Great customer service, easy to do and at a fair price...

Jon Johnnidis
2 months ago
Experienced professionals for support, great product and excellent service. Energy levels and overall body comp positive results came quickly and remained. Highly recommend.

Thomas O'Rourke
3 months ago
Nice and easy. I decided to use both services, the testosterone and sermorelin treatments. The biggest improvement I see so far is the recovery time between workouts. I am less sore and have seemly endless energy. Only a few months in, but so far, so great

G Long
4 months ago
The team at Renew Vitality is amazing. I have worked with multiple doctors both in the UK and State Side, this group represents what I consider to be best in class. I have nothing but praise for Dr. Marshall. I am a guy on the go and I will tell you that Nick on their team takes phenomenal care of me, it's like having my own personal concierge service 24/7. My only feedback would be....Don't ever lose Nick or I will have to go wherever he does. Thanks again!