Testosterone Replacement Therapy Clinic in Garden City, NY
---
Get your drive back with our hormone replacement therapy
Garden City, NY
Testosterone Replacement Therapy Clinic
Address: 520 Franklin Ave, Ste 214, Garden City, NY 11530
Clinic Hours: M-TH 9:00 am - 8:00 pm; F 9:00 am - 5:00 pm
Phone: (516) 464-7800
Back to Locations
Testosterone Replacement Therapy Clinic in Garden City, NY
---
Research shows that patients who have underwent testosterone therapy experiences an increase in their sexual function, sexual desire, and libido. In addition to other benefits like: greater muscle mass, improved mood and cognition, and a lower risk for cardiovascular disease and diabetes.
Renew is one of the most reliable among men's health clinic with disruptive treatment methods in male hormone replacement therapy.
Testosterone is a dominant hormone for a man's vitality. This essential hormone can majorly influence one's production of red blood cells, muscles mass, and fat storage. However, once a man hits the age of thirty, their testosterone levels decrease annually. Fortunately, there is a way to test and treat low to average testosterone levels.
Our hormonal replacement therapy is administered in cycles, allowing the body to continue the production of testosterone naturally. Renew Vitality provides forms of treatments that can be invasive and non-invasive, depending on what you are comfortable with.
The treatments are then paired with a health plan that is focused on diet and exercise. Many of our patients see results as early as 2-5 weeks after the initial treatment!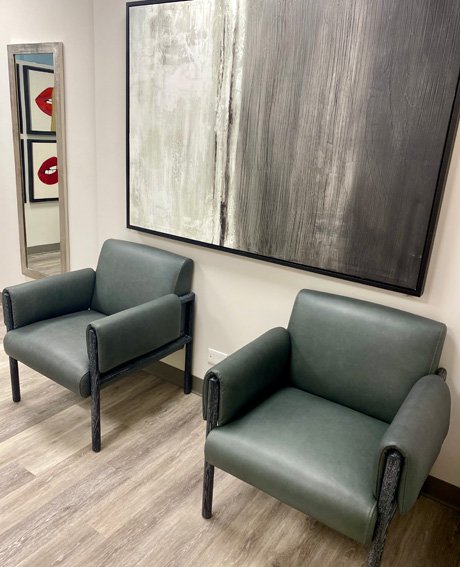 ---
Natalie Sharp is an ANCC Board Certified Family Nurse Practitioner with 10+ years of experience in Cosmetic Dermatology & Permanent Makeup. Throughout her career, Natalie has worked alongside some of the most prestigious Dermatology clinics such as Westmed, Sadick Dermatology, and Schweiger Dermatology. Her passion for aesthetic treatments sparked her interests in testosterone treatments for general body rejuvenation and cosmetic procedures to fight anti-aging signs. The techniques executed by Natalie Sharp can help men restore and add to their final touch of a youthful look.
Currently, Natalie Sharp is collaborating with our expert hormone replacement anti-aging physician, Dr. Marshall. Together they help men regain youthful looks, improve their skin quality, and minimize signs of aging at Renew Vitality Testosterone Clinic in NYC. Natalie has gained expertise working with TRT specialists for several years. The combination of her cosmetic dermatology and permanent makeup skills with hormone replacement therapies ensures that the patient gets the most of rejuvenation from both specialties. With an artistic eye and a personalized approach, Natalie Sharp maximizes the rejuvenating hormone replacement therapy results with minimally invasive cosmetic therapy techniques.
Welcome to Renew Vitality
---
Testosterone Replacement Therapy Cost in Garden City, NY
The first step to begin the testosterone hormone replacement therapy is scheduling an initial consultation appointment. This consultation has a $400 flat rate that includes a physical exam and one-on-one time with our highly experienced physicians. After your first consultation, the costs of the treatments varies since the plan is created specifically for each person.
The testosterone replacement therapy (TRT) is an elective-therapy that usually is not covered by insurance. Nevertheless, insurance can offer some coverage for the diagnostic tests, as long as the health provider facilitating the procedures is in network with your insurance program.
Treatment Benefits
Convenient Nationwide Locations
Those who are affected from low testosterone are inclined to suffer with the symptoms in silence to avoid the the negative stigma towards seeking treatment. Our facilities strive to make mens health clinics accessible and convenient. Which is why we have more than 50 locations throughout the United States ready to fulfill your TRT therapy needs in a discreet, respectful, and professional manner.
Personalized Treatments
The focus of the treatment plan is based on your goals, lifestyle, concerns, and results from the initial consultation exam. When creating treatment plans tailored to fit your specific needs, we utilize several different types of testosterone replacement therapies. Our offering includes human growth hormones (HGH), amino acids treatments, sermorelin therapies, sexual health enhancements, wellness programs, and testosterone therapy for male menopause. The TRT invasive therapy can be administered through injections which penetrates the hormone directly into the muscles, implantation which slowly introduces the hormone into your bloodstream, transdermal skin patches that deliver testosterone to the bloodstream. If this form of therapy doesn't suit you, we also provide non-invasive treatments that be applied on the skin or taken orally.
Experienced Team of Professionals
We strive to make our clients feel comfortable in our clinics and confident in their individualized plans when they choose to visit our low testosterone clinic. Our skillful staff and experienced low testosterone doctors are prepared to handle your individual hormone replacement therapy, TRT, and vitality needs. Our physicians bring decades of combined experience to the table from various fields like age management and anti-aging.
---
Anthony Parasole
3 days ago
It's been a great experience working with Dr. Marshall and Josh and the Renew team. I wasn't feeling well and did research for treating my low testosterone the team walked me thru the process of bloodwork and doctor visit within a few days the process was complete and started treating my prescription I feel much better and they've been really great with answering any question throughout the process!

Tj Campion
week ago
I have been so happy with this company. The results in my fitness, happiness and all around life have been amazing. Great customer service, easy to do and at a fair price...

Jon Johnnidis
2 months ago
Experienced professionals for support, great product and excellent service. Energy levels and overall body comp positive results came quickly and remained. Highly recommend.

Thomas O'Rourke
3 months ago
Nice and easy. I decided to use both services, the testosterone and sermorelin treatments. The biggest improvement I see so far is the recovery time between workouts. I am less sore and have seemly endless energy. Only a few months in, but so far, so great

G Long
4 months ago
The team at Renew Vitality is amazing. I have worked with multiple doctors both in the UK and State Side, this group represents what I consider to be best in class. I have nothing but praise for Dr. Marshall. I am a guy on the go and I will tell you that Nick on their team takes phenomenal care of me, it's like having my own personal concierge service 24/7. My only feedback would be....Don't ever lose Nick or I will have to go wherever he does. Thanks again!
---