Testosterone Replacement Therapy Clinic in St Louis, MO
---
Get your drive back with our hormone replacement therapy
St Louis, MO
Testosterone Replacement Therapy Clinic
Address: St Louis, MO 63127
Clinic Hours: M-F 8:00 am - 7:00 pm
Phone: (314) 798-7720
Back to Locations
Testosterone Replacement Therapy Clinic in St Louis, MO
---
Every man relies on their testosterone to live their best life. The primary male sex hormone is largely responsible for your sex drive, mental stability, cognitive thinking, metabolism, and even muscle growth and strength, which help you to remain mobile, happy, and physically active as you interact with the world around you. But when you suffer from a testosterone imbalance such as low testosterone, those important biological traits start to change in ways that can completely snatch the joy of living away from you.
When age, injury, trauma, and stress start to negatively affect your health, your testosterone also declines, making it more difficult for your body to regulate the biological processes necessary to maintain these essential physical characteristics, leading to a range of symptoms. As a result, you may notice that your sexual performance has diminished due to issues like low libido or erectile dysfunction. There are moments where you may also experience signs of impaired cognitive function or "brain fog" as you struggle with short-term memory loss and the inability to concentrate or think clearly. In fact, you may wonder why you have a harder time engaging in regular exercise as you continue gaining extra body fat and lose your muscle mass and strength. All of these physical issues are common symptoms that occur when your testosterone reserves are running on empty.
Although low testosterone is usually more likely to occur as testosterone levels start to naturally decline during your 30s and 40s, any adult male is vulnerable to experiencing low testosterone, depending on the circumstances. In order to ensure that your overall health remains maintained, it is helpful to check your testosterone levels regularly and receive the appropriate medical treatment when they drop below the normal parameters so that you can avoid dealing with symptoms of low testosterone.
With male hormone replacement therapy (HRT) from the Renew Vitality Clinic in St. Louis, MO, our hormone specialists can prescribe hormone treatments that can help compensate for the decreased biological performance caused by hormone deficiency. Using this innovative and non-invasive medical treatment, we can offer a testosterone replacement therapy (TRT) that can elevate your low testosterone levels to optimized parameters and alleviate many, if not all, of your Low T symptoms. Once your testosterone levels are optimized, you'll experience improved cognitive function, and enhanced sex drive as the treatment helps you to reduce your body fat and increase your muscle mass and strength, thus improving your overall health.
Reclaiming your well-being is just a simple phone call away, so why wait to take back control of your life? Contact a specialist at the Renew Vitality Clinic in St. Louis at (314) 798-7720 to start working towards achieving a healthier and more improved version of yourself today.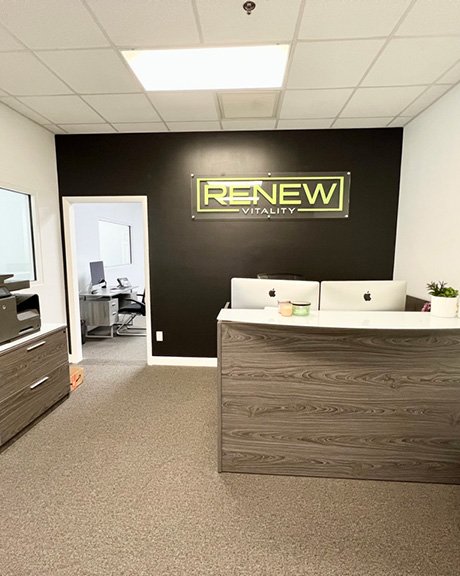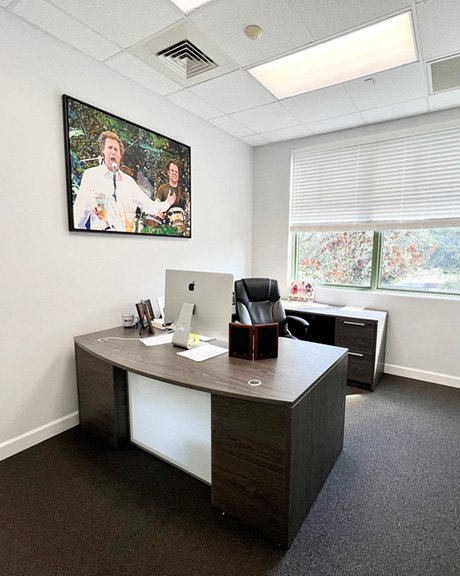 Welcome to Renew Vitality
---
How Much is the Cost of Testosterone Replacement Therapy in St. Louis, MO?
Because every adult has a unique physiology that may have a distinct response to hormone imbalance, each treatment may require various medications, different dosage levels, and varying time-frames for how long patients may need to remain in therapy. Due to the unpredictability of these factors, the average cost of testosterone replacement therapy will usually vary depending on the nature of each case. That means in order for our staff to provide you with an accurate estimate of your potential treatment costs, we will need to schedule you for an initial consultation at the Renew Vitality Clinic in St. Louis, MO.
For the first step of your initial consultation, one of our Renew Vitality physicians will review your medical history and sit down with you to ask about your symptoms, as well as your personal preferences and specific goals for treatment. Next, they will conduct a physical examination, request blood work, and perform other diagnostic testing to assess the state of your symptoms and determine the possible cause of your Low T. Finally, once your physician receives your test results, they will provide an official diagnosis for your case. After they've discussed their diagnosis with you, they will customize a therapy plan that can effectively treat the source of your low testosterone and still accommodate your body's specific needs and your personal preferences for treatment.
Once you receive your individualized treatment plan, our office will provide an invoice detailing your potential costs for treatment based on the factors we've previously discussed. Since HRT is not covered by insurance, we will review other available payment options for your TRT therapy so you can decide how to move forward before starting treatment.
How Do I Find A Men's Health Clinic Near Me?
There are several ways you can find a nearby men's health clinic with the Google search engine. By typing "men's health clinic near me," Google can present a list of results that can provide you with directions and information for various men's health clinics near your home. If the results you find aren't quite what you're looking for, you can also try typing "men's hormone therapy near me," to get more results directed toward HRT. And if all else fails, you can always type in "Renew Vitality," along with your city and state, to find the nearest Renew Vitality location around your vicinity.
At Renew Vitality, we specialize in administering effective hormone replacement therapy to men with low testosterone. Our experienced and friendly staff take their time to assess your issues with hormone imbalance and customize comprehensive treatment plans that can suit your biological needs and alleviate your low testosterone symptoms. By integrating safe and effective hormone treatments with diet and exercise, we can help you transition to a healthier lifestyle that can assist in raising your testosterone levels. If you believe that you may be experiencing signs of Low T, contact us at and ask about our available treatment options to find out how we can help you overcome your testosterone deficiency and improve your overall health.
What Treatment Benefits Can I Expect From The Renew Vitality Clinic in St. Louis, MO?
Personalized Treatment
Low testosterone can cause each man's physiology to elicit different responses, despite the fact that they're struggling with the same hormone imbalance. That's why HRT needs to be tailored in a way that matches each patient's unique issues. That's why our staff strives to fully study your medical history and accurately pinpoint the cause of your hormone imbalance so they can appropriately customize an individualized therapy plan that addresses your unique symptoms, ailments, and biological needs. In addition, we make sure to offer several kinds of treatments--such as testosterone treatments, HGH therapy, Trimix, and phentermine injections–that focus on various medical conditions ranging from sexual dysfunction to growth hormone deficiency.
As part of your personalized treatment, we also customize diet and fitness plans based on your physical capabilities and food preferences, so you can easily integrate a healthy wellness approach to your therapy that is proven to maximize the effects of your medicated treatment and help you achieve optimal results.
Convenient Locations
With the hustle and bustle of your regular day-to-day routine, it can be difficult sometimes to make doctor's appointments, especially when you have a family. That's why at the Renew Vitality Clinic in St. Louis, MO, we make sure to keep our doors open on our Low T clinic until 8 pm from Monday-Thursday, providing you with enough time to meet with our physicians in the late evening after you've taken care of your other responsibilities.
In addition, after you join Renew Vitality, you'll enter our nationwide database, providing you with accessible men's hormone therapy from over 90 locations across the United States. This makes continuing your therapy more convenient if you're looking for a hormone specialist near your home after moving to another state or if you need to make an appointment while on the road for business. Just let us know where you're headed, and we can refer you to the nearest Renew Vitality clinic in your area to help you pick up where you left off in treatment.
Experienced Team of Professionals
When dealing with an innovative procedure treatment like HRT, you want to make sure that you have a team of experts by your side that know what they're doing. At the Renew Vitality Clinic in St. Louis, MO, our medical professionals have extensive knowledge of regenerative medicine with years of experience administering hormone replacement therapy to men struggling with low testosterone. Whether you're dealing with our physicians or nurse practitioners, you can always count on friendly and expert guidance from our staff. With help from our elite team, you can confidently move forward in therapy, knowing that the treatment plan they've created for you will help you to restore and even improve your former quality of life. And to make sure that you are assisted outside of your regularly scheduled visits, our proficient response team is only a phone call away and ready to help with any questions or concerns regarding your treatment.
---
Anthony Parasole
3 days ago
It's been a great experience working with Dr. Marshall and Josh and the Renew team. I wasn't feeling well and did research for treating my low testosterone the team walked me thru the process of bloodwork and doctor visit within a few days the process was complete and started treating my prescription I feel much better and they've been really great with answering any question throughout the process!

Tj Campion
week ago
I have been so happy with this company. The results in my fitness, happiness and all around life have been amazing. Great customer service, easy to do and at a fair price...

Jon Johnnidis
2 months ago
Experienced professionals for support, great product and excellent service. Energy levels and overall body comp positive results came quickly and remained. Highly recommend.

Thomas O'Rourke
3 months ago
Nice and easy. I decided to use both services, the testosterone and sermorelin treatments. The biggest improvement I see so far is the recovery time between workouts. I am less sore and have seemly endless energy. Only a few months in, but so far, so great

G Long
4 months ago
The team at Renew Vitality is amazing. I have worked with multiple doctors both in the UK and State Side, this group represents what I consider to be best in class. I have nothing but praise for Dr. Marshall. I am a guy on the go and I will tell you that Nick on their team takes phenomenal care of me, it's like having my own personal concierge service 24/7. My only feedback would be....Don't ever lose Nick or I will have to go wherever he does. Thanks again!