Testosterone Replacement Therapy Clinic in Miami, FL
---
Get your drive back with our hormone replacement therapy
Miami, FL
Testosterone Replacement Therapy Clinic
Address: 3850 Bird Road, Ste 501, Miami, FL 33146
Clinic Hours: M-F 9:00 am - 8:00 pm
Phone: (786) 460-4570
Back to Locations
Testosterone Replacement Therapy Clinic in Miami, FL
---
For most men, low testosterone can become the main culprit behind many of the medical complications they experience as they age. Typically, as men reach their 40s, their testosterone levels begin to decline by 1% yearly, eventually leading to testosterone deficiency, which can drastically change the state of their physical function. As a result, men with lower than normal testosterone levels are more likely to struggle with unwanted symptoms, such as constant fatigue, decreased muscle strength, reduced sex drive, and impaired cognitive function. If left untreated, these issues can persist and lead to more serious medical conditions such as osteoporosis, diabetes, heart disease, and erectile dysfunction. Unfortunately, the stress and strain from dealing with these age-related symptoms can also lead to psychological issues such as depression, which can significantly impact your physical health and prematurely accelerate your aging.
However, there is a way for men to treat their low testosterone and alleviate their related symptoms. Thanks to the cutting-edge practice of hormone replacement therapy (HRT), men can utilize specific hormonal treatments to introduce additional hormones into their bodies to boost their hormone levels to optimal standards. Through HRT, men can receive prescribed testosterone medications as part of a comprehensive testosterone replacement therapy (TRT) to help replenish their testosterone and renew their standard quality of health. With TRT, men can enhance their physiology and experience several physical improvements, such as lean muscle growth, healthy weight loss, increased muscle strength, and improved sexual performance.
At the Renew Vitality Testosterone Clinic in Miami, FL, we provide safe and effective male hormone replacement therapy to men struggling with hormone imbalances. Our hormone replacement programs are integrated with diet and exercise regimens to help men optimize their lifestyles as they actively work to restore their hormone levels and improve their overall health. Thanks to our treatment plans, men can alleviate and even prolong age-related symptoms, allowing them to rediscover their youth and vitality. If you're over 30 and believe you may be experiencing signs of hormone imbalance, such as low testosterone, schedule an appointment at our Low T clinic and discuss the potential of testosterone replacement therapy as a treatment option for you.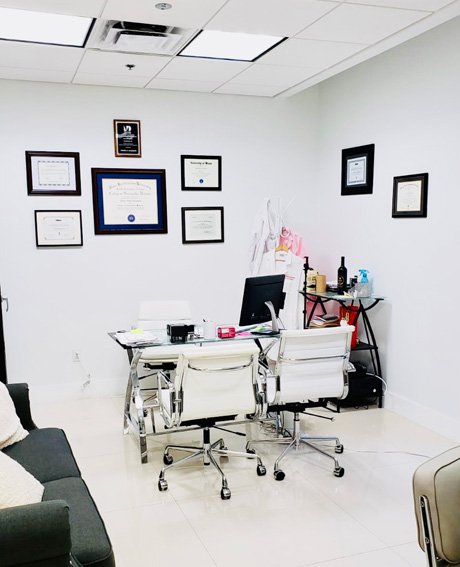 ---
Dr Thierry Jacquemin is an international physician, board-certified in Internal Medicine, and he has spent the last decade of his professional life helping his patients live better, smarter, longer, and prettier. He focuses on the optimization of the human physical potential, hormonal health, and advanced preventive medicine.
In addition, Dr Jacquemin has achieved "Master Injector" status with facial aesthetic procedures, and as such he has developed a phenomenal reputation as a "celebrity doctor" in Miami. He focuses on minimally invasive facial procedures, such as botox, facial fillers, facial harmonization, jaw contouring, PRP facial rejuvenation, non-surgical rhinoplasty, PDO lifting procedures, Sculptra Butt Lift, hair transplantation, and much more.
Dr Thierry Jacquemin is completely fluent in French, English, Spanish, Portuguese, and Italian. He pursued his undergraduate training at the University of Miami, where he graduated Cum Laude with a degree in Philosophy and Biology, after which he went to the prestigious NSU-COM to complete his medical degree. He has remained a high-level athlete over the years, despite a rigorous schedule, and believes wholeheartedly in practicing what he preaches.
Dr Jacquemin completed his residency at Mount Sinai Medical Center and subsequently at Palmetto General Hospital, where he served an additional academic year as Chief Resident. He continues to practice in beautiful Coral Gables, Florida, with the unrelenting philosophy to
"Live Better, Smarter, and Longer".
Welcome to Renew Vitality
---
Testosterone Replacement Therapy Cost in Miami, FL
Because every patient may have a different biological response to certain medications due to their unique physiology, the average cost of testosterone replacement therapy will vary depending on the nature of each case. For that reason, the physicians at the Renew Vitality Clinic in Miami, FL, are dedicated to thoroughly understanding how your body works before recommending treatment. During your initial consultation, a Renew Vitality physician will rigorously review your medical history and perform a physical evaluation to diagnose the underlying cause of your low testosterone symptoms. Based on the results, your physician will determine the best approach to addressing your low testosterone and design a customized treatment plan to fit your personal preferences and your body's biological needs.
Our staff will then provide an itemized report based on the type of medication, dosage level, and the amount of time needed to produce results. Once you receive your treatment plan and expense report, our office will discuss your available payment options so you can begin planning your budget before starting TRT therapy.
How Do I Find A Men's Health Clinic Near Me?
Google is typically the first place you should check when searching for a men's health clinic near your home. However, knowing what to type into the search engine is also essential in getting accurate results. For example, try using keywords such as "men's hormone therapy near me" or "Renew Vitality," along with your city and state. In doing so, Google should be able to provide a list of Renew Vitality's closest hormone replacement clinics in your area.
Treatment Benefits at our Vitality Health Testosterone Clinic in Miami, FL
Convenient Nationwide Locations
We understand that finding a clinic specializing in men's hormone therapy near your area can be difficult. We also understand that attending appointments can be challenging as you try to navigate through your busy schedule. To help make things easier, Renew Vitality has clinics in Miami, Boca Raton, Jupiter, and Jacksonville, so you can always find a nearby Low T clinic in Florida to receive treatment. In addition, our offices are open early in the morning and won't close until the late evening, so you can always find time to meet with one of our physicians after you've finished your workday and taken care of the family. And should you need to travel or move to another state, Renew Vitality has over 50 locations nationwide that can track and monitor your progress, allowing you to continue your treatment anywhere you go.
Personalized Treatments
Although men with low testosterone may share similar symptoms, their response to treatment will vary depending on their physiology. So, at the Renew Vitality Clinic in Miami, FL, we tailor your hormone replacement therapy program to accommodate your specific needs and preferences, so you can feel comfortable and confident as you work towards balancing your hormone levels. In addition, your Renew Vitality physician will work with wellness experts to create a manageable exercise and diet regimen based on your capabilities and preferences, so you can comfortably optimize your lifestyle to enhance your treatment.
Experienced Team of Professionals
Our physicians, wellness experts, and nurse practitioners at the Renew Vitality Clinic in Miami, FL, utilize years of combined medical experience to help you accurately address your issues with hormone imbalance. In addition, our medical professionals are licensed and certified in hormone replacement therapy, so you can always feel confident that you are receiving knowledgeable recommendations and solutions as you undergo treatment. And should you find yourself unable to reach your Renew Vitality physician, our support staff are also trained in anti-aging medicine and eager to answer any questions or concerns you may have about treatment in a matter of hours.
---
Anthony Parasole
3 days ago
It's been a great experience working with Dr. Marshall and Josh and the Renew team. I wasn't feeling well and did research for treating my low testosterone the team walked me thru the process of bloodwork and doctor visit within a few days the process was complete and started treating my prescription I feel much better and they've been really great with answering any question throughout the process!

Tj Campion
week ago
I have been so happy with this company. The results in my fitness, happiness and all around life have been amazing. Great customer service, easy to do and at a fair price...

Jon Johnnidis
2 months ago
Experienced professionals for support, great product and excellent service. Energy levels and overall body comp positive results came quickly and remained. Highly recommend.

Thomas O'Rourke
3 months ago
Nice and easy. I decided to use both services, the testosterone and sermorelin treatments. The biggest improvement I see so far is the recovery time between workouts. I am less sore and have seemly endless energy. Only a few months in, but so far, so great

G Long
4 months ago
The team at Renew Vitality is amazing. I have worked with multiple doctors both in the UK and State Side, this group represents what I consider to be best in class. I have nothing but praise for Dr. Marshall. I am a guy on the go and I will tell you that Nick on their team takes phenomenal care of me, it's like having my own personal concierge service 24/7. My only feedback would be....Don't ever lose Nick or I will have to go wherever he does. Thanks again!